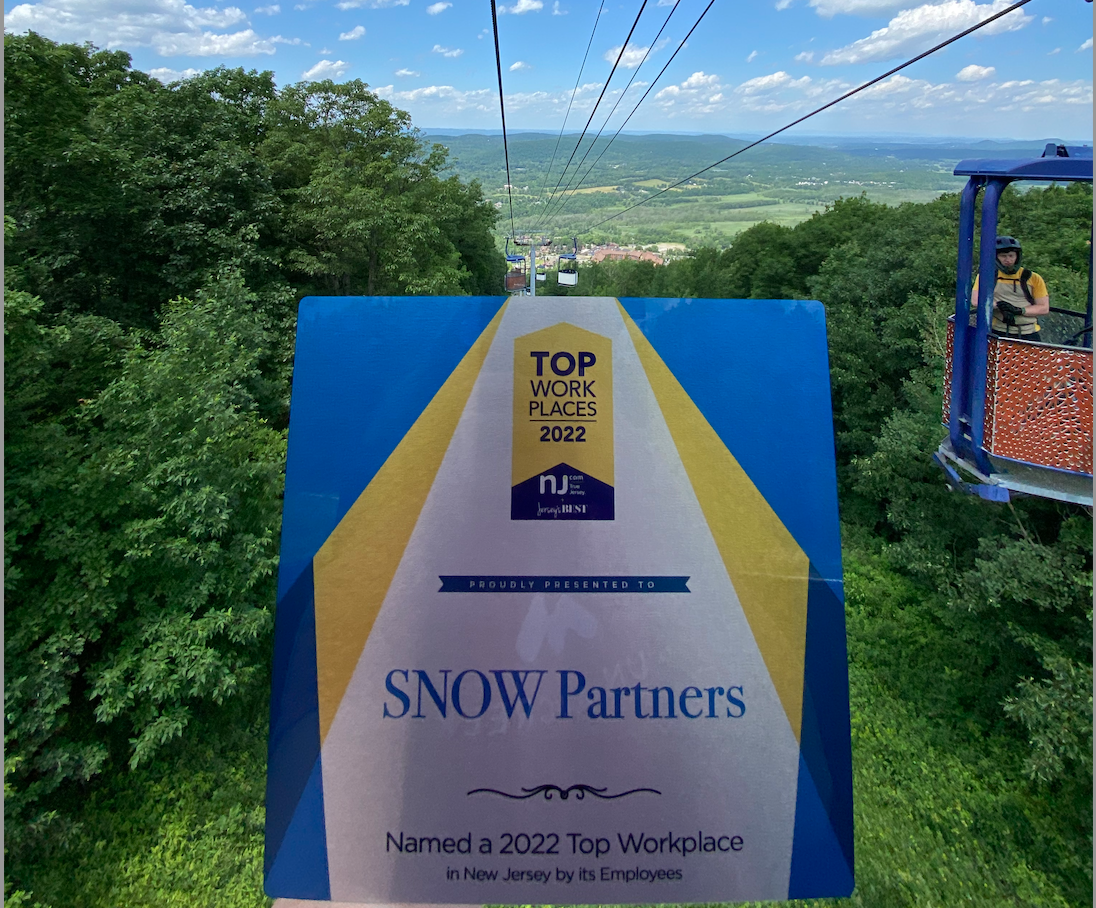 June 30, 2022
SNOW Partners Recognized as Top Workplace
Montville, NJ (June 30, 2022) – SNOW Partners, whose mission is to enhance lives by building lasting connections, along with its Mountain Creek Resort and Big SNOW American Dream indoor snow facility, have been recognized as a top place to work in New Jersey by the Top Workplaces National Survey. Additionally, SNOW Partners also has been recognized with the distinct cultural honor as one of the nation's "Most Meaningful Places to Work."
Top Workplaces is the nation's most credible employer recognition program.Once companies choose to participate, the survey is sent to all employees and can be administered at any time throughout the year. Recognition is based upon employee feedback given in the "Energage Workplace Survey," which consists of 24 base statements that capture anonymous responses in four culture imperatives: align, connect, coach and performance. The survey measures employee engagement, leadership and basic workplace culture. The survey results are then compared to the Top Workplaces benchmark, formed by over 16 years of data from 27 million employee surveys across 70,000 organizations. Over 1,000 companies entered the regional competition, with 87 companies receiving the honor within New Jersey. Specifically, SNOW Partners placed within the top 20 companies, ranking at number 18.
"We are honored and humbled to be recognized as a top workplace in New Jersey, especially in our first year of participating in this survey," said Kelly Brooks, Chief People Officer, SNOW Partners. "At SNOW Partners, we lead and live by our mission statement. The personal connections we make within our teams are what make our work so enjoyable. It is incredibly fulfilling to receive this feedback from our team members, and we're proud to celebrate this honor with them."
This recognition comes on the heels of other recent honors bestowed on SNOW Partners properties, including the Sussex County Economic Development Council Business Advocacy Award for Mountain Creek Resort and the National Ski Areas Association Diversity and Inclusion Award for Big SNOW American Dream.
For more information, visit Snow Partners at SnowPartners.com, Mountain Creek Resort at MountainCreek.com and Big SNOW American Dream at BigSnowAmericanDream.com.